Control Systems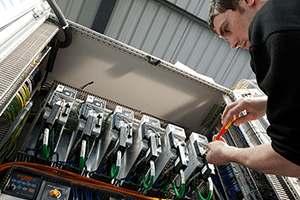 At CPS we serve a broad spectrum of industries and we have used our many years of experience to handle everything from complex integration of complete packaging lines to simple start/stop control stations.
We also design bespoke control systems including touch screen operator interfaces with shift production information.
Control systems form the backbone to every automation system, controlling sensor's, motion and every device on an automated system. They can also provide crucial information about system performance and overall productivity.
At CPS our controls systems follow the Industrial Control Standard and Architecture including PLC, HMI and PC based controls. Our team of highly qualified professionals believe in working with our customers to provide a complete solution to meet our customers needs and achieve their objectives.
Regardless of installation location we can deliver systems to meet local component preferences and local standards. Our diverse range of best in class automation and and industry experience enables us to successfully deliver world class control solutions to our customer on a global basis.
Our project experiences include Life science to including Medical Devices Pharmaceuticals and Diagnostics, Consumer products, Electronics, Material conveyance/part handling, machine vision systems and laser systems.